Dr. Karen Taylor traveled to the White Mountain Apache Indian Reservation in the white river area of Arizona June 1-June 8, 2019. She participated in a clinic funded by the Humane Society that offers free veterinary service to the citizens of the community. There were thirty veterinary students, selected veterinarians, four staff certified veterinary technicians, and three non veterinary related volunte
ers.
The group performed well examinations, vaccinations, dewormings, flea and tick preventatives, and addressed any issues that were found on physical exam. Two hundred and sixty patients were seen. In addition, 140 of these animals were also spayed or neutered. A full hospital was set up with a receiving area, surgery room, in induction area, a recovery room area with holding cages and tents (to prevent cats from escaping), and a pharmacy.
The citizens of this community are reliant on this veterinary group coming to the reservation annually. They suffer from parvo virus, distemper virus, and en endemic tick population causing Rocky Mountain Spotted Fever.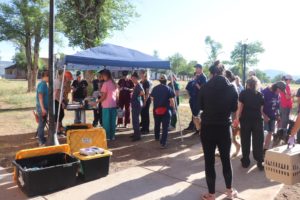 Dr. Taylor commented "It was an amazing experience. I learned new surgical techniques as well as mentoring some amazing veterinary students. It was a very rewarding experience; helping this community of wonderful people and their animals."